Hauptinhalte
Tourism and vibrancy
With its boundless charm Saarland is still an 'insider's tip' for people looking for a break. Hidden treasures are just waiting to be discovered: idyllic lakes and ponds, splendid riverside meadows, virtually endless forests, villages or vibrant historic town/city centres, romantic vineyards and also impressive monuments and significant archaeological finds. A journey to Saarland is an encounter with an impressive cultural landscape characterised by interesting traces of an eventful history.
Unadulterated nature bathed in sunlight: in the middle of 2014 the weather reports recorded above-average temperatures. Saarland had an average temperature of 10.8°C, making it the fifth warmest region in Germany. These climatic conditions have contributed to the development of a varied natural landscape with a wide diversity of species – right across the region from Saargau to Bliesgau and from the densely populated greater Saarbrücken area to rural northern Saarland.
Over 10 percent of the land area in the state meets the EU's Natura 2000 criteria for biological diversity. In 2015 a prime example of biodiversity and sustainable tourism was created in north-eastern Saarland in cooperation with the state of Rhineland-Palatinate – the cross-border Hunsrück-Hochwald National Park which takes in areas of both Saarland and Rhineland-Palatinate. Bliesgau – which includes the UNESCO Biosphere Reserve in the south-east of the state – already ranks as a secret gem.
And if a state is named after a river, water inevitably exerts its magical natural attraction over people. Whether heading for France on a boating holiday along the River Saar or taking a trip on the Freizeitsee, the largest recreational lake in south-west Germany. Since 2013 it has also hosted Germany's newest Center Parcs resort, the Bostalsee holiday park providing views over the reservoir, a sandy beach and a tropical swimming paradise.
The travel bug combined with a love of leisure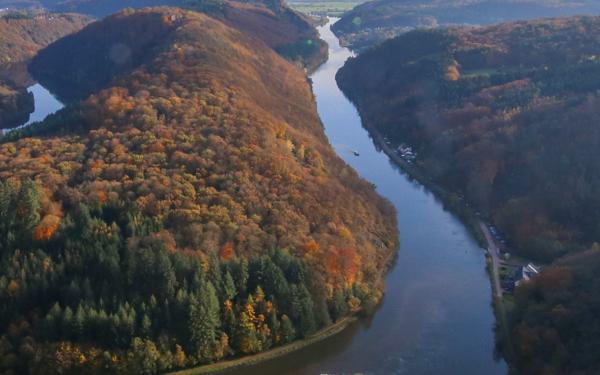 Outdoor activities: paths through unspoilt woodland and meadows make hiking in Saarland a special natural experience – all the more so thanks to the comprehensive signage. The dense network of top quality "premium" hiking paths is without parallel in other federal states. The Saar-Hunsrück Climb was officially recognised as Germany's most beautiful long-distance hiking trail in 2017. What's more, in April 2015 the first 'premium walking route' in Germany was opened in Orscholz. And the summer of 2016 saw the opening of the imposing Treetop Walk along Germany's most beautiful river bend, the 'Saarschleife'.
There's also a full range of options for cyclists: from family-friendly routes along the valley floors to cross-border trips to France and Luxembourg and arduous ascents of the Hunsrück peaks. And if you would just like to take it easy, you can experience the ultimate in relaxation at the Moorish-Andalusian themed Saarland Therme spa resort.
 Breakfast in a Roman villa in the morning, a medieval festival at lunchtime, tea at the baroque castle, and in the evening jazz in front of the blast furnaces of the Völklinger Hütte UNESCO World Heritage Site – in Saarland you can experience 2,000 years of history in a single day. The retail promenades and cafés in our towns and cities will also tempt you to go on extended shopping tours. From Saarland, the neighbouring areas in France, Luxembourg or Belgium are also within reach for an excursion.
Insight into our cultural history
Saarland is a landscape which is steeped in culture and whose roots can be traced back from the present to Gallo-Roman and even Celtic times. Castle and fortress complexes bear witness to the Middle Ages, the Renaissance and the Baroque period. An example of the region's industrial history is the "Völklinger Hütte" UNESCO World Heritage site. It's best to combine a visit to this industrial monument with one of the spectacular exhibitions that are frequently held there. A trip to visit our neighbours is equally inspiring: romantic Luxembourg, the Porta Nigra and the Imperial Baths in Trier, Metz with its lovely old town, and Strasbourg with its imposing cathedral are all well worth a visit. Here where the frontiers of France, Luxembourg and Germany meet, one gets a great sense of national idiosyncrasies but also of common European traits.
Local cuisine
If you go on a culinary journey of discovery, you'll find delights to tickle your taste buds everywhere you go: nowhere else in Germany are there as many geniuses in the kitchen and food connoisseurs. The large number of stars in the Michelin Guide and chef's hats in the Gault-Millau guide prove it: the sheer variety of regional dishes will quickly make your mouth water. Traditional beers, "Viez" ciders from northern Saarland, and the excellent Mosel wines from Perl are all enjoyed here. Mediterranean and exotic restaurants add international flair to the local gastronomy. The food that is produced and served here is what the countryside provides. Many dishes also incorporate subtle hints of the cuisine of neighbouring France.